About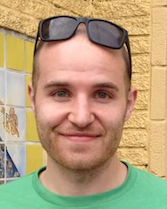 Hello, I'm David. I work as a software engineer in the aerospace industry. Modeling physical systems, state estimation, and designing robust feedback controllers is what I do.
Projects, interests
PySextant, a small utility to calculate your position on the earth given two sightings of the sun using, say, a sextant.
Tinymath, a lightweight c library geared toward manipulating vectors of length 3 and 3x3 matrices.
Sensor-cal, a fast c library for performing attitude independant sensor calibrations using a non-linear least-squares optimization.
JuliaOrb, a Julia module for orbital mechanics.
Orbpy, a python module for orbital mechanics. This project is incomplete and will likely stay that way.
This site, how meta.
Strava, the most important project of them all.
Professional
Publications/presentations
Simulation, State Determination, and Control Design for a Small Imaging Spacecraft [pdf]
Control Theory 101 Lunch and Learn [pdf]
Simulation and Control Design for Shape Memory Alloy Torque Tubes [link]
Other cool stuff
Pandoc, this site is converted into html from markdown with this awesome tool